Bonita Springs Lawn Care – Bonita Springs Lawn Service
Griffith Lawn Care, Inc.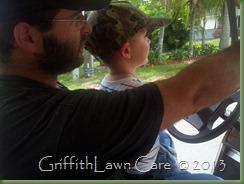 The Griffith family has called the Southwest Florida area home for over 35 years and homestead in Bonita Springs, Florida. Over the years we've been able to provide both Lee and Collier Counties with an area of services such as site development, asphalt paving, seal coating, real estate and now lawn care. We, at Griffith Lawn Care, strive to continue providing services in Southwest Florida and contribute to the local economy.
Griffith Lawn Care we offers a variety of services to meet the needs of our clients including: General lawn care mowing, Bush Hog service, weed eating, edging, yard clean up, acreage mowing, weed control, debris removal, junk removal, tree trimming, palm tree trimming, Tree Removal, mulching and tractor services. We provide both residential and commercial lawn care services. Our flexible lawn care plans vary from a one-time mowing to annual contracts.
Griffith Lawn Care offers free estimates, we offer reasonable rates and we offer the security of hiring safe employees to work around your home or business for your lawn care needs. We proudly share that we are a drug free work place and hire only documented workers who are fluent in English.
We look forward to being your choice in lawn care service. Call 239-287-8710 – Jon Griffith