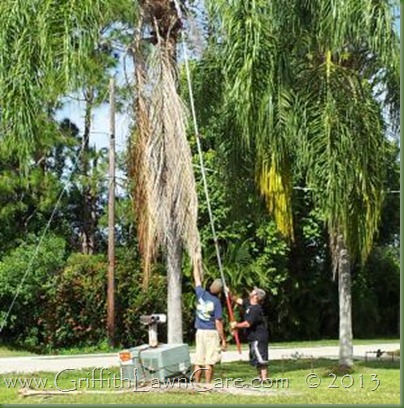 Tree Trimming in Bonita Springs, Florida
In addition to general lawn care service and bush hog service. Griffith Lawn Care also offers tree trimming service for all palm trees and hardwood trees.
Tree trimming, especially palm tree trimming is a year round task for most varieties of palm trees. When juvenile trees are planted the tree trimming can often be completed by the home owner but as the palm tree advances in years and height there are safety issues that come with climbing ladders with saws, chain saws or clippers. The risk versus reward ratio of do-it-yourself tree trimming becomes off balance when one does the math on calling a profession to trim the trees versus the cost of buying the tree trimming tools and risking injury or fall.
As a general safety guideline it is recommend that seasonal tree trimming take place before the rainy season which is also hurricane season. The wind produced by summer rain storms can result in the branches and fronds damaging structures, pool enclosures, personal property and more. A home owner's insurance company may also request regular maintenance of the property and ask the home owner to maintain their landscaping, which includes tree trimming, as a preventative means to avoid wind damage.
Whether you need a one-time tree trimming or would like to get your home or property on a regularly scheduled tree trimming maintenance schedule, count on Griffith Lawn Care as your tree trimming service.
We also offer emergency clean up and debris clean up service so if a tree is downed or a branch is unsafe due to windstorm damage call us for immediate assistance to trim the tree and haul away the debris. We also offer entire tree removal service for trees that may have reached a point of size and maturity where they become a hazard have over grown their intended need.
Griffith Lawn Care is licensed and insured and able to mobilize quickly. Call Jon for immediate assistance 239-287-8710